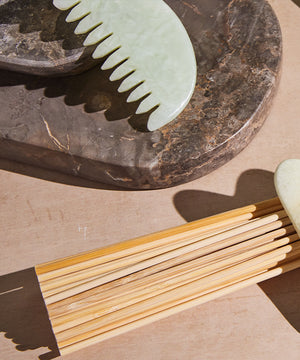 Which Hayo'u Tool is For You?
Finding the right wellness and gua sha tool for YO'U
It's all about bespoke self-care...
When our founder Katie Brindle began Hayo'u, her mission was to distil ancient Chinese medicine techniques into simple daily rituals with award-winning products and gua sha tools that help you master your health.
Whether you're struggling with aches and pains, want to improve the appearance of fine lines and wrinkles, build your immune system, increase your energy levels or target tired muscles and stubborn fat. We're here to help.
If you're looking to join the gua sha revolution, a restorer is for you. These are smooth carved stones that are used to perform a facial massage to stimulate blood flow and collagen production for plumper, lifted skin, and to boost lymphatic drainage for an inner and outer glow. To take it to the next level try a Precision Tool to target the eyes and for natural lip plumping.
However, we go far beyond a glowing complexion, our wellness tools are on hand to ensure you can feel incredible from head to toe. Target aches and pains, release muscle tension, improve the appearance of cellulite and boost energy with these award-winning tools.
Find the tool for you and learn simple, pleasurable techniques that make a world of difference.
award-winning
The Beauty Restorer
The original gua sha tool described by Anna Murphy in The Times as 'one of the best tools…to transform your face'. This tool has a multitude of benefits, including:⁠

Boosts micro-circulation by up to 400%⁠

Reduces the appearance of fine lines and wrinkles⁠

Lifts, plumps and sculpts⁠

Supports circulation and lymphatic drainage⁠

This is the best gua sha for you if you are looking to transform your skin for a glowing, radiant complexion that feels nourished and restored.
to target eyes and lips
The Beauty Precision
Described as the 'magic wand of gua sha' the Precision Tool is uniquely designed for the delicate skin around your lips and eyes.
This is the perfect gua sha tool to:
⁠Target problem areas with pinpoint accuracy ⁠

Improve circulation and lymphatic drainage
Reduce the appearance of fine lines and wrinkles

Perfect for treating puffy eyes and to plump lips naturally. This tool is for anyone wanting to maximise their gua sha results.
from head to toe
The Body Comb
Described by Vogue as a 'tool for effortlessly glowing skin' the Jade Comb can be used as a scalp massager to promote healthy hair, as well as being a multi-use tool perfect for the ancient treatment of body combing. Use for one minute daily in the shower to:
Boost lymphatic drainage and increase microcirculation by up to 400%
Reduce tension in the body and smooth skin

Target cellulite, heavy legs and water retention⁠
Get rid of a dry scalp and promote healthy hair growth ⁠
This is the tool for you if you're looking to feel confident, glowing and restored from head to toe.
calm your skin
The Compress
The final member of the Gua Sha facial trio is the Compress. This rounded tool is perfect for your end of day skincare routine as it has been designed to:
Soothe tired and stressed skin
Calm acne and help close pores
Treat puffy eyes and banish undereye circles
Relax tight facial muscles
Rebalance the skin⁠
This facial massage tool is ideal to encourage the absorption of essential oils and serums for a healthy glowing complexion.
award-winning
The Body Tappers
At Hayo'u we are proud to introduce you to the ancient practice of Pai Sha (strike flush), so much so that we created our unique Bamboo Tapper and Silicone Body Drummer.

Tapping the skin on a daily basis enables the free flow of all of our important circulation, these body tools are natural energy boosters. In as little as 1 minute a day, an all over body tap can:
Clear areas of stagnation
Release muscle tension
Revive energy and mood
Support your immunity
Support lymphatic drainage and encourage a smooth flow of blood and qi around the body
We recommend the multi-award winning Bamboo Tapper for a relaxing practice.
To target stubborn fat and cellulite and release muscle tension we recommend the silicone Body Drummer.
Maximise your wellness routine