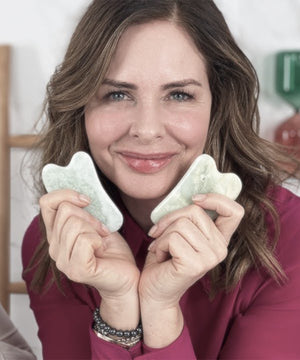 Our Favourite Feedback & Results
Glowing Reviews
A. Smith
I love using this, my face gets a workout (the method is very easy) and the oil is sublime. I have tried several other oils with my jade tool and no other has the gorgeous scent that this one does. I have purchased both for myself and a gift, would definitely recommend, and will definitely buy again.....and again....and again.
J. Jones
What an exciting day! My body tapper, book, oil and Jade beauty restorer have all arrived beautifully packaged the oil smells amazing... the Jade calming and cool my body tapper feels even better than it looks and is a relaxing sound. And can't wait to start learning more through my book! Already planning my next purchase. Thank you
G. Cantel
I have used this oil for over a year along with the jade restorer tool. I feel invigorated and pleased, and feel I am helping my face, my complexion, relaxing my mind and body and allowing me a satisfying sense of achievement.
S. Shaw
I really love this oil. I cannot find anything that compares. A brilliant oil that stays oily whilst gua shaing ! Others just disappear into the skin.
L. Adey
This luxurious body oil has a heavenly scent and glides onto my skin creating a perfect platform for using my body restorer or jade comb. It does absorb into the skin after a while hydrating and nourishing it. It gets 5 stars from me.
A. Bollag
I have a collection of Gua Sha tools and I really like the Hayo'u stones in general. But I think this precision tool is really the hero of the collection and unlike anything I have found elsewhere. It is absolutely genius. So well designed and thought through and the quality of the jade is really lovely.
M. Higginson
I bought this with the body restorer and it been a game changer. If you watch the nighttime video about chest, shoulder, under arms- since watching I do this every night and sleep like a baby. I'm almost out and can't wait to get more. Life changer HIGHLY recommend especially with body restorer!
K. Patel
I adore the rose quartz restorer, it's not only beautiful and cooling when I press it on my face but really helps to achieve that natural glow. This was my first purchase from Hayo'u and I'm addicted, be warned you will want everything else!! Waiting for my Jade restorer and Precision tools now as it's only best to use the rose quartz in the mornings.
K. Joyce
Numerous people have commented how my skin is glowing and my pale complexion now has peachy cheeks since using the rose quartz restorer. I just look more rested and this has been the tonic I needed in a difficult year. Your customer service is exemplary and you are a pleasure to deal with - thank you!