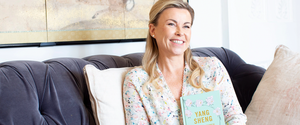 Empowering you to master your health
Meet our Founder
Katie Brindle is a Chinese medicine practitioner, healer, empath, life healer and mentor with over 20 clinical years under her belt. Katie's mission is to empower people to master their health covering an extensive range of issues from ageing to beauty, insomnia to anxiety, and menopause to the meaning of life. Her tools and techniques teach people to heal efficiently and effectively and above all by themselves.
After discovering first hand the healing power of Chinese wisdom, Katie identified the unmet need for self-care tools, initiating the huge explosion in gua sha crystals. Her qigong classes have touched the lives of thousands offering transformation in both health and body shape, energy levels and appetite for life. 
In her highly acclaimed virtual clinic Katie curated her expertise to resolve entirely any life issue from health to life purpose to business success. She offers original and effective guidance and wisdom then provides a clear road map enabling the most fulfilled and healthy life to all clients.
Katie is regularly featured in global press and was most recently featured in The Mail on Sunday, Vogue International, Hello! The Cut and Forbes and regularly features alongside leading influencers such as Trinny, Ateh Jewell and Fearne Cotton.
a gap in the market
Why Katie Started Hayo'u
After a car accident ended Katie's dreams of becoming an opera singer, she turned to Chinese medicine. In fact, she was so inspired that she decided to train as a Chinese medicine practitioner herself. During her time in practice, she quickly realized that the prevention and self-treatment of illness was the secret of longevity in ancient China. She began distilling the Yang Sheng concept of self-care into simple tools and techniques that became the Hayo'u Method, inspired by the natural healing system of Chinese medicine.
Katie is regularly featured in global press as 'the wellness expert you need to know'
Master your health
In Her Own Words
'I've been on a long journey from patient to practitioner, during which I've learned two important lessons. That Chinese medicine often really does have the answer. And that good health starts with yang sheng, or self-care'.
Katie Brindle
You'll find Katie live daily on Instagram @katie_brindle working to enable as many people as possible to access this priceless wisdom and master their health.
"Katie Brindle is interested in long-time results and preventative approaches... and that's precisely how she developed the now award-winning Hayo'u method, a programme of practical techniques based on years of studying, learning, education and first-hand experience."
- Bridget Arsenault, Forbes magazine